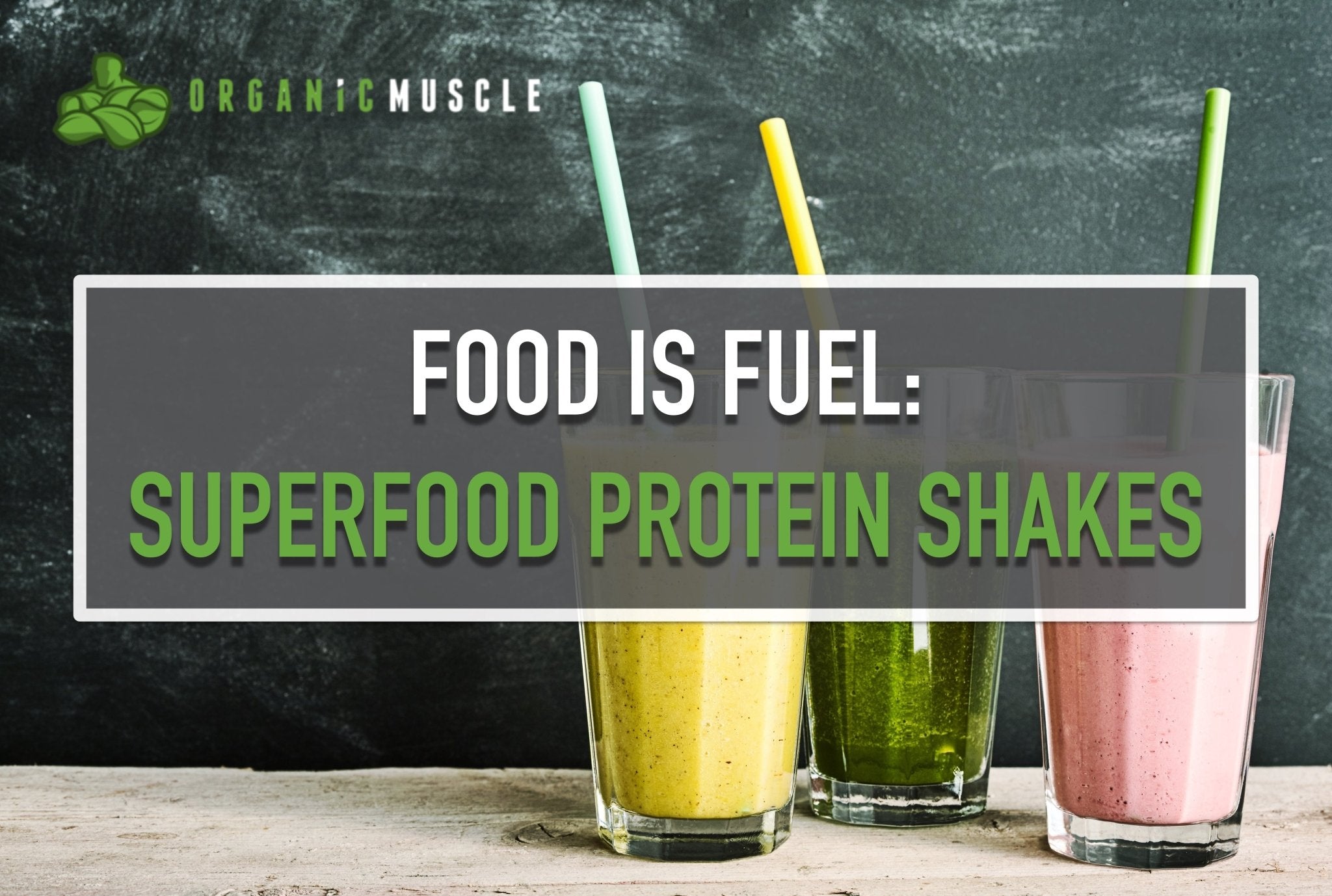 Chemical Free
Food Is Fuel: Superfood Protein Shakes
Sep 11, 2019
Ideally, we should eat a home-cooked whole food meals every day to promote proper health and nutrition. While this is definitely the best way to go, many of us have days where there just isn't the time for that for every meal. So what is a person to do that wants to promote proper health and nutrition in their body even when they are in a hurry? The answer lies with these amazing Superfood Protein Shakes made with Organic Muscle Health and Fitness Supplements!
By combining one of the 3 Organic Muscle Superfood Powders with the Organic Vanilla Vegan Protein you get the micronutrient-dense, health-promoting properties of the superfoods along with the macronutrient-dense, complete protein properties of the protein powder. This creates the ultimate meal replacement shake for those days when your alarm doesn't go off in the morning, when your too busy to take a full lunch, or when you work late and miss dinner. Did I mention they taste fantastic?! 
When Organic Muscle launched the Superfood Greens supplement it was designed to help those who need more green nutrients in their body that don't necessarily like green vegetables. Since then it has gone on to become the #1 Rated Organic Greens Supplement sold on Amazon.com because of its amazing taste and health-promoting benefits. It all comes from our 100% USDA Certified Organic superfood and natural flavor blend that is sourced from American farms here in the USA.
This superfood protein shake is super nutritious and super easy to make. It packs 24g of protein, 6g of fiber, 227mg of potassium, 9g of calcium, 15mg of phosphorus, 14mcg of iodine, 8mg of magnesium, 0.5mg manganese, 141mcg of vitamin A, 15mg of vitamin C, 66 mg of vitamin K, 51mcg of folate, 1.3mcg of vitamin B12 (54% DV), 5mcg biotin, 2.5g of iron, and many other nutrients in trace amounts. This doesn't even count the amount of nutrients from the milk that can be mixed with it. Whether it's dairy milk, almond milk, cashew milk, or my favorite lately oat milk, there are a number of additional nutrients that will be added into the shake.
In the case of the oat milk I use, I get an additional 75% DV of vitamin B12 from the 12oz I use. Now I know I'm going to get enough B12 throughout my day with just this one shake. That's a lot of nutrition in a quick and easy meal replacement drink! Next time you find yourself in a hurry don't neglect your health. Take a minute to whip up a quick and easy Superfood Protein Shake to fuel your body and your promote a healthier you!