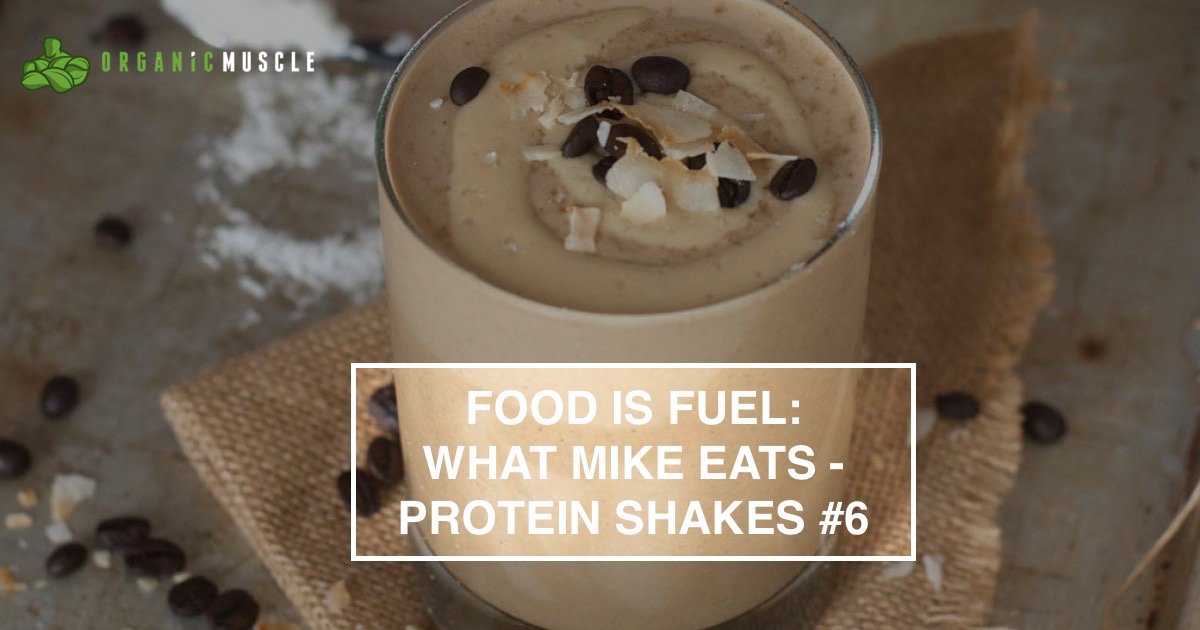 Antioxidants
Food Is Fuel: What Mike Eats - Protein Shakes #6
Feb 26, 2019
The "Food Is Fuel Series" is back! You know what that means. More healthy, quick and easy recipes to help fuel your body through your busy day. Whether your on the go for work, chasing kids around the house or looking to improve your diet, nutrition and overall health, we have you covered! Well, in this case WhatMikeEats has you covered once again with some amazing shakes made with our own Organic Vegan Protein Powder! These shakes pack a protein punch along with a familiar caffeinated twist to get you going and keep you fueled.
If your like me or most everyone I know, you probably like coffee. You may even love it, and as we have mentioned before, coffee loves you too with all the health benefits it can provide. These benefits range from increased immunity from high antioxidants to slowing genetic aging by decreasing telomere damage. No wonder Mike has dedicated these next couple recipes to the highly coveted coffee bean!
First up is Mike's "Coffee Lovers Protein Shake," which will start out with a Nutribullet cup, 1/2 a cup of unsweetened cashew or almond milk (great recipe for cashew milk) and 1/2 a cup of cold or room temperature fresh brewed coffee. Now you will add in 2 scoops of our Organic Vegan Chocolate Protein, 1/2 a frozen banana and 1-3 drops of liquid stevia for all natural, zero calorie sweetness along with some other health benefits too. To finish things off Mike adds 1/2-1 cup of ice for his own personal preference. You then simply blend all the ingredients in a Nutribullet like Mike uses until smooth and then top it all off with a sprinkle of cacao nibs!
Anybody who knows anything about coffee and the kinds of coffee people like, they know specialty coffee reins supreme. These delightful treats are what coffee chains like Starbucks and Dunkin' Donuts have used to build there profitable empires. Among these specialty coffees the "cafe mocha" or "mocha" are one of the most popular. I know they have always been my favorite and Mike must be fond of them as well with this next recipe!
Mike calls this one the "Almond Coconut Mocha Shake," which takes that popular specialty and turns it into a protein powerhouse! This one starts out the same as the last, with 1/2 cup of unsweetened cashew or almond milk and 1/2 a cup of cold fresh brewed coffee in a Nutribullet cup. Now you will add in 2 scoops of our Organic Vegan Vanilla Protein, 1 teaspoon of instant coffee granules and 2 tablespoons of cocoa powder. Add in 1/4 a cup of shredded unsweetened coconut, and once again 1/2-1 cup of ice to Mikes personal preference and then blend until smooth in the Nutribullet. Now you can top it all of with some whipped cream, I recommend a dairy-free coconut whipped cream in this case.
We give a special thank you to Mike once again for creating these recipes for us! They are truly great ways to fuel your day, even in a fast paced busy lifestyle and environment. These shakes really represent what the whole "Food Is Fuel Series" is about. Making your diet and nutrition a top priority and making it easy. Thanks for reading and keep fueling your body the way mother nature intended!