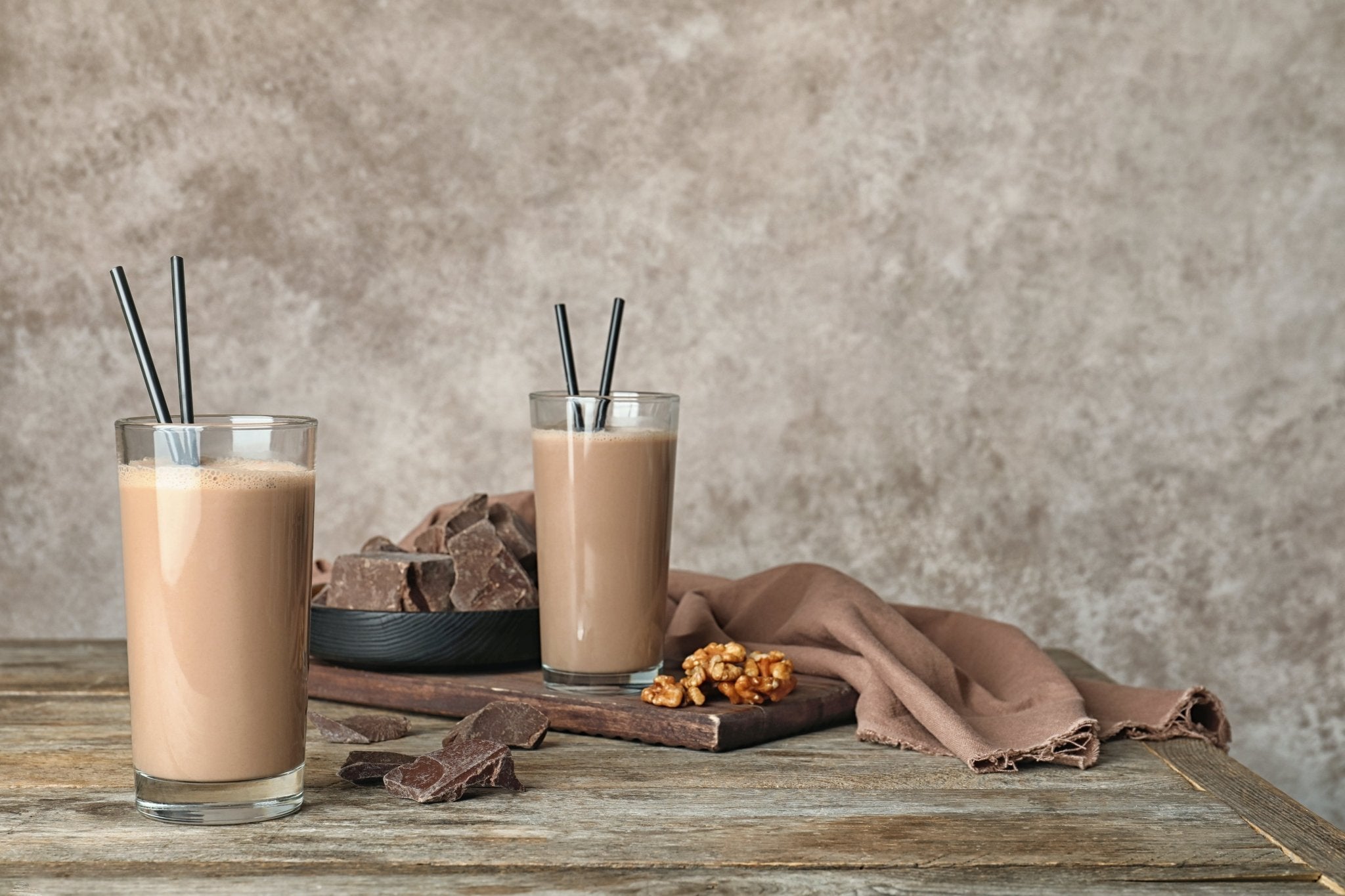 Antioxidants
Food Is Fuel: What Mike Eats #8
Mar 12, 2020
It's that time again, time to team up with our friend and Organic Muscle Family member Mike Kneuer from What Mike Eats to provide you with some delicious and nutritious shake recipes. Whether you are looking to lose a few pounds by using a meal replacement shake or you just need something nutritious on the go, Mike has your back with these awesome shakes featuring our Organic Plant-Based Protein powder! 
There is no better way to get back into the Food Is Fuel Series than with these sensational chocolate shakes from Mike. I mean, who doesn't love chocolate? It has been one of the most popular foods in the world for centuries, with evidence of chocolate beverages dating to 1900 BC. 
While most people love chocolate for its flavor, it also contains nutrients and minerals that may have a positive effect on our health. No, not that milk chocolate Hersey's bar, but dark chocolate. Dark chocolate is less refined and often contains fewer sugars. It is a purer form of chocolate that packs all the benefits. 
Dark chocolate comes from roasted and ground cacao seeds from the cocoa tree, one of the best sources of antioxidants on the planet. Multiple studies show that dark chocolate, not the sugary stuff, can improve your health and lower the risk of heart disease. It contains a decent amount of soluble fiber and loaded with minerals like iron, magnesium, copper, manganese, potassium, phosphorus, zinc, and selenium.
But wait, there's more. Dark chocolate is also a source of antioxidants, including polyphenols, flavonols, and catechins. One study showed that dark chocolate had more antioxidant activity, polyphenols, and flavanols than any other fruits tested, including blueberries and acai berries.
So let's get to it! We will start things out with this "Dark Chocolate Almond Butter Cup" shake from Mike. First, you will need to get your Nurtibullet cup out and add 1 Cup of unsweetened cashew or almond milk. Now you will add in 1/2 Cup of plain non-fat Greek yogurt, 1 Tbsp of almond butter, and 2 Squares of 90% dark chocolate. Then you top that all off by adding 2 Scoops of Organic Muscle Chocolate Protein and 1/2 to 1 Cup of ice as a personal preference of Mike's. Now you just screw on the blades of the Nutribullet, blend until smooth, and enjoy! 
This next recipe combines the antioxidants of dark chocolate with other beneficial plant-based nutrients found in foods like peanut butter and bananas. Peanuts are a great source of plant-based protein, fat, and various other nutrients. This legume originated in South America but quickly spread across the globe. Peanuts are mostly consumed roasted and salted or in peanut butter. Other peanut products include peanut oil, flour, and protein.
Bananas are not only delicious but highly nutritious as well. They contain several essential nutrients and provide benefits for digestion, heart health, and weight loss. No wonder Mike added some banana to this incredible "Chocolate, Peanut Butter, and Banana Shake" recipe! 
Once again, this recipe starts by adding 1 Cup of unsweetened cashew or almond milk into a Nutribullet cup. Next, you will add in 1 Tbsp of cacao nibs or dark cocoa powder, 2 Tbsp of natural peanut butter, 1/2 a banana, and 1 Cup of spinach. Now you add 2 Scoops of Organic Muscle Chocolate Protein and 1/2 to 1 Cup of ice as a personal preference of Mike's. Last but not least, it's time to screw on the Nutribullet blades and blend until smooth. Now you just sit back and enjoy. 
Mike Kneuer never fails us with his shake recipes. These are just a couple more examples of how we can pack tons of nutrients into one shake! All of Mike's shakes are as equally nutritious as they are delicious, making it easy to fuel our bodies with food, the way mother nature intended!