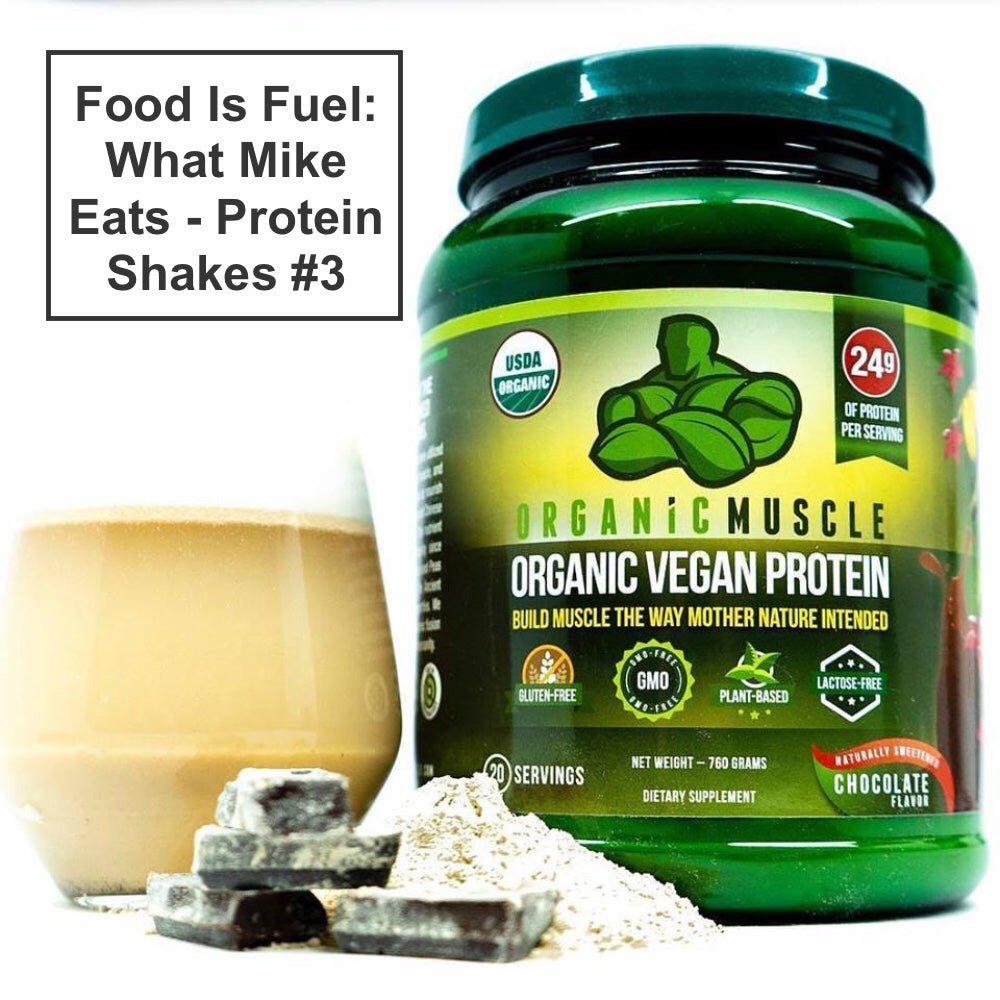 Diet
Food Is Fuel: What Mike Eats - Protein Shakes #3
Nov 3, 2018
It's becoming all too common for people to sacrifice nutrition for the sake of speed and convenience. This is a practice that has resulted in more of a demand for fast food places than supermarkets and fresh produce stands. While the speed of food preparation and our own personal convenience has increased, our nutrition and overall health has declined. This has resulted in overwhelming numbers of dietary, nutritional health problems like obesity and type 2 diabetes. Thats why I am back at it with the "Food Is Fuel" series and teaming up with "What Mike Eats" to show that your health and nutrition doesn't have to be sacrificed for ease and convenience! Mike uses the "Organic Muscle Plant Protein" to make delicious, nutrient dense shakes in no time!
Who doesn't love a PB & J every now and then? This is something that was a lunchtime staple for many during their school years and they still crave today! Mike has us covered with this great "Peanut Butter & Jelly Protein Shake" that you can whip up in no time! 
To start things out, Mike puts one cup of "Unsweetened Cashew Milk" (great recipe here) or "Almond Milk" in a Nutribullet cup. He then adds two scoops of "Organic Muscle Vanilla Vegan Protein" in with the nut milk. Mike then adds one cup of "Mixed Frozen Fruit" to give this shake its "Jelly" flavor. Now this wouldn't be a true PB & J without the PB! To give this shake its peanut butter flavor Mike adds one to two tablespoons of "All-Natural Peanut Butter." I recommend checking labels when buying peanut butter to find one that has peanuts as the only ingredient. This avoids adding unwanted sugars to your shake. To top off this super shake, Mike adds two tablespoons of "Rolled Oats" and one half to one cup of ice as his own personal preference. Now that you have all the ingredients in the Nutribullet cup you simply blend it until it's smooth and enjoy!
Halloween may be behind us now, but those candy bars are going to linger around for a while. Among all those left over candy bars you likely find a favorite for many, the "Almond Joy." I remember this was always my Dad's favorite when I was growing up and somehow they would go missing from my halloween candy!
Because this is a favorite candy bar for many people out there, Mike came up with the "Almond Joy Protein Shake!" This shake starts out the same as the last, with one cup of "Unsweetened Cashew" or "Almond Milk" in a Nutribullet cup. To give this shake its protein and chocolate flavor, Mike adds two scoops of "Organic Muscle Chocolate Vegan Protein" to the nut milk. The almond joy candy bar has coconut and almonds in it so Mike adds two tablespoons of "Sliced Almonds" and two tablespoons of "Shredded Coconut" to the cup. Once again, Mike's personal preference is to add one half to one cup of ice to the shake. After you have combined all the ingredients into the Nutribullet cup you will simply blend it until the shake becomes smooth.
That is going to wrap up this edition of the "Food Is Fuel" series. Keep an eye out for future editions to help you find ways to not sacrifice your nutrition and health for time and convenience! Who would have thought being healthy could taste so good?