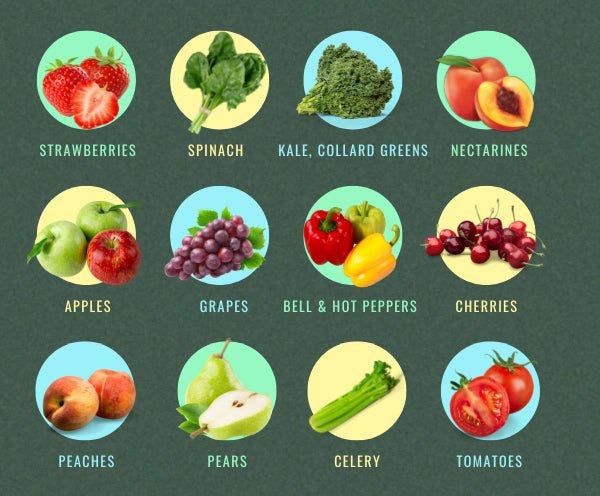 Crops
The Dirty Dozen – 12 Fruits & Vegetables You Must Be Buying Organic
Nov 3, 2022
Nowadays, eating healthy is becoming more and more challenging. You have to struggle hard and find out what ingredients and items to choose, specifically when it comes to fresh produce.
In a world where dangerous pesticides and GMO's are commonplace, you never know if the food you are eating is even safe to consume or not. Today, we are educating you about a contentious act of farming that can sabotage your health.
Are You Eating Pesticides?
The growing practices to produce fruits and vegetables involve spraying various pesticides and insecticides on the crops. These harmful chemicals also seep into the foods during this process. So, there are high chances you might ingest them even after being washed. [1]
These pesticides are successfully making their way up to your stomach. Therefore, your body is exposed to numerous acute or chronic health risks.
How Do These Pesticides Seep Into The Outer Layer?
Pesticides sprayed on the fruits and vegetables accumulates on the skin or outer peel. More than 50 percent[2] of these chemicals stay on the peel. Some of the pesticides are designed to penetrate into the tissue of these Dirty Dozen. Therefore, it can impose harmful effects when ingested even after washing.
How Do Pesticides Affect Human Endocrine System?
Agricultural pesticides are designed to eliminate certain organisms in crops. Unfortunately, these chemicals can also be toxic for some non-target areas, i.e., Endocrine System.
The pesticides[3] bind with the hormone receptors in the Endocrine System, thus inhibiting their function. They alter the synthesis of various endogenous hormones and interfere with the neurotransmitter systems.
Therefore, it is necessary to clean these 12 fruits and vegetables properly and buy organic produce.
Best Way to Wash the Dirty Dozen
Here's the guide on how to effectively wash the Dirty Dozen to avoid maximum exposure to pesticides;
Take a large bowl full of water
Pour one cup of distilled vinegar into it
Add the veggies/fruits to the bowl
Let them soak for almost 15 minutes
Rinse thoroughly afterward
You can also clean the skin with a fruit/vegetable brush
Where Can You Get These 12 Foods Without The Harmful Effects?
Buying organic fruits and vegetables can be intimidating and costly. However, this cost is negligible when comparing it to the possible negative effects on your physical and mental health. To keep the cost of organic Dirty Dozen in your budget, you can source them from;
Community Supported Agriculture Farm

 
You can buy organic in bulk directly from a local farm.
Local farmers sell the produce weekly at a farmer's market.
A grocery store sells natural foods at lower prices to its members.
Keep in mind that the health cost of consuming harmful chemicals will be a lot more than eating fresh and organic produce every day.
References:
 [1] Ssemugabo, C., Guwatudde, D., Ssempebwa, J. C., & Bradman, A. (2022). Pesticide Residue Trends in Fruits and Vegetables from Farm to Fork in Kampala Metropolitan Area, Uganda-A Mixed Methods Study. International journal of environmental research and public health, 19(3), 1350. https://doi.org/10.3390/ijerph19031350
[2] Nguyen, T. T., Rosello, C., Bélanger, R., & Ratti, C. (2020). Fate of Residual Pesticides in Fruit and Vegetable Waste (FVW) Processing. Foods (Basel, Switzerland), 9(10), 1468. https://doi.org/10.3390/foods9101468
[3] Mnif, W., Hassine, A. I., Bouaziz, A., Bartegi, A., Thomas, O., & Roig, B. (2011). Effect of endocrine disruptor pesticides: a review. International journal of environmental research and public health, 8(6), 2265–2303. https://doi.org/10.3390/ijerph8062265